Welcome
The Longley Whitebred Shorthorn herd began in 1977 with the purchase of Nether Oakshaw Tom, our first Whitebred Shorthorn bull who was bought to use on some of our fold of Highland Cattle.
The herd now numbers 24 home bred cows which makes it one of the largest Whitebred Shorthorn herds in existance today.
From the onset of our pedigree breeding of Highlanders, we were health conscious. Joining the government health regulations in the early 1960's, and later with private company's such as BioBest High Health.
Currently our herd is accredited for IBR and BVD and has a Johnes risk level 1. 
Also, many additional tests have been done to enable us to export cattle worldwide.
Visitors always welcome by appointment
Latest News
May 2020
Longley Whitebred Shorthorn Crossed with Hereford Cattle [more]
April 2020
Longley Duke Comes Home from Cogent [more]
February 2020
Longley Whitebred Shorthorn Embryo's Exported to Canada
Early in 2019 we had a communication from a Canadian cattleman. He talked about Whitebred Shorthorns, and how they would fulfil a need in Canada. I told him semen had been successful exported to Canada and the USA, but the only way to get pure Whitebred Shorthorns there was by embryos. [more]
Our Consignment of Bulls Available for Sale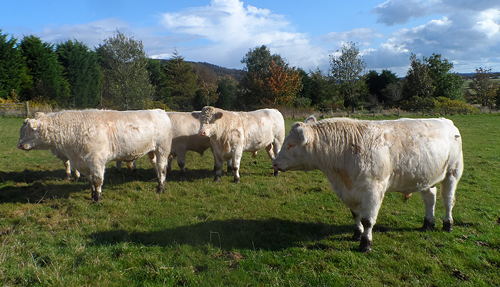 view more photos here
These Bulls were born in March / April 2018 and normally would be ready for use in spring 2020, but because of what has been a remarkable performance during the summer they are ready to go to work now.
They are the product of 2 stock bulls. Longley Hannibal our senior bull, now with his fourth crop of calves. He has been responsible for improvements in conformation, particularly in the hind quarters. Also our new young bull Lochdochart Zeus who has increased size and length, making this consignment of bulls the best yet.
The whole herd has been since its inception in the Hi Health Herdcare Cattle Health Scheme.
We are also able to offer free delivery of any purchase.
Please contact us on 01383 832812 for more details and arrange viewing.
---